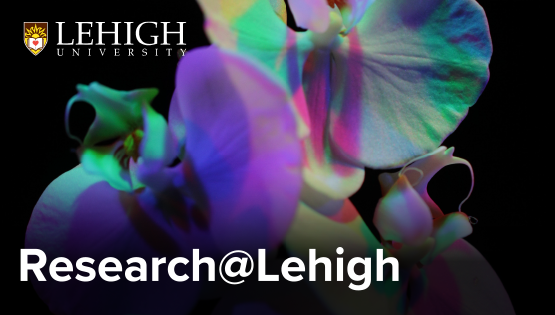 August 8, 2023
Welcome to Research@Lehigh, a monthly newsletter from the Office of the Vice Provost for Research featuring research resources and services; important announcements and deadlines; upcoming events, workshops and training; and recent research news.
---
Announcements 
Call for University Interdisciplinary Research Center White Papers
One of Lehigh's strategic plan's key initiatives involves investment in three broad interdisciplinary research themes. We are inviting statements of interest to prepare proposals for new research centers around the themes of:
Join us for one of two Q&A sessions with Nathan Urban in person on Tue Sep 12, 2-3pm or virtually on Fri Sep 15, 12-1pm. Registration info below. 
National Postdoc Appreciation Week
Attention all postdocs and mentors!  We are excited to announce Lehigh is celebrating National Postdoc Appreciation Week for the first time this year following the creation of the new Postdoctoral Affairs Office.  From Sept 18-22, join us for a week of special events and workshops. Read more here >
Reorganization News – OVPR Stem
As Lehigh begins to implement our new strategic plan, we are engaged in conversations about changing support structures to support growth in research. We are pleased to announce that the Research Accounting team of Dominic Wallitsch, manager, and Jennifer Kershner, analyst, have joined the OVPR stem, within the ORSP team, reporting to Cynthia Kane. Research accounting is key to all financial aspects of sponsored research and this realignment is a natural fit for our growth as a research organization. Welcome Dominic and Jen!
---
Upcoming Dates & Deadlines
TUE, AUG 8 | NOON - 1:00 PM
Join us for a Zoom Q&A session on the new research enhancing programs including the University Sabbatical Fellows Program and Visiting Scholars Program.  
WED, SEP 6 | NOON - 1:00 PM
Join us for a virtual discussion on all seed funding programs available through OVPR, along with new updates to funding amounts and criteria.  New faculty are especially encouraged to attend.  
TUE, SEP 12 | 2:00 PM – 3:00 PM (HST 3rd floor; RSVP here)
FRI, SEP 15 | NOON – 1:00 PM (Zoom registration)
Register for one of the Q&A sessions with Provost Nathan Urban on the call for Interdisciplinary Research Center white papers.
FRI, SEP 15 | 2:15 PM – 3:15 PM (virtual)
Research Integrity will provide an overview of IRB policies and the review process. Designed for students new to conducting human subjects research, as well as faculty and staff interested in learning more about the Lehigh IRB review process.
ONGOING
The Graduate Writers' Studio is hosting the NSF GRFP proposal writing group.  If you are a STEM Sr. undergraduate, or 1st/2nd year graduate student who is planning on applying this October, this group is for you. We will meet once in August, then weekly thereafter. 
---
LIRA Updates
LIRA Grants and Agreements Crash Course: If you are new to LIRA or want a refresher, you can now view a recorded Crash Course session here. Additionally, you can view and download the slides from the presentation.
Fellowship Proposals: There is a new process for fellowship proposals in LIRA. All applications will need a LIRA record entered by either the fellow's mentor or department support. The full guide can be found here.
Office Hours: Open office hours for LIRA questions and support will be held on the following dates: 
Date

Time

Zoom Link

August 22, 2023

August 24, 2023

August 29, 2023

August 31, 2023

September 5, 2023

September 7, 2023

September 12, 2023

September 14, 2023

11am - 12pm

2pm - 3pm

11am - 12pm

2pm - 3pm

11am - 12pm

2pm - 3pm

11am - 12pm

2pm - 3pm
At any time, if you have any questions about LIRA please email inlira@lehigh.edu
---
Featured Resources
Ever wonder what types of activities require IRB review? Take a look at our handy guidance which helps researchers understand the criteria for "human subjects research" at Lehigh.
The Office of Research maintains an online library of successful internal grant proposals, available to support Lehigh faculty in their grant writing by offering ideas and insight into content depth, structure, style and format.
---
Spotlight Q&A
Get to know members of the Lehigh Research team. 
Erin Karahuta
Research Integrity Manager
How would you describe your job to a layperson?  I support the Lehigh community in conducting ethical research, and I work with researchers one-on-one to help them conduct research according to federal and institutional requirements.
Favorite food? My family is Slovak, and I love the dishes I ate growing up, especially halupki (stuffed cabbage rolls).
What is one of your hobbies? I enjoy both watching and playing tennis, and I am excited to be going to the US Open for the first time this year! 
---
Research News
| | |
| --- | --- |
| | New research finds link between COVID-19 mortality rates and access to financial service. |
| | Reichmanis is researching materials that could create stretchable polymer semiconductors.. |
| | Terry-Ann Jones examines the experiences of seasonal, migrant sugarcane workers in Brazil, providing insights into the country's deep-seated inequalities. |
For previous newsletter issues, click here >
---
Contact Us
Questions, feedback and content suggestions? We welcome your feedback. Email us at vpresearch@lehigh.edu.
Follow us on Twitter @LehighResearch
---
Office of the Vice Provost for Research
Alumni Memorial Building, 27 Memorial Drive West
Bethlehem, PA 18015