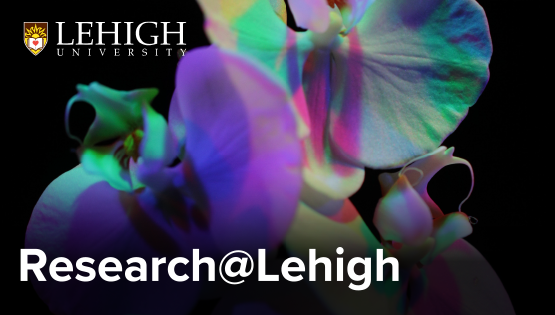 September 5, 2023
Welcome to Research@Lehigh, a monthly newsletter from the Office of the Vice Provost for Research featuring research resources and services; important announcements and deadlines; upcoming events, workshops and training; and recent research news.
---
Announcements 
Call for University Interdisciplinary Research Center White Papers
One of Lehigh's strategic plan's key initiatives involves investment in three broad interdisciplinary research themes. We are inviting white papers to prepare proposals for new research centers around the themes of:
Join us for one of two Q&A sessions with Nathan Urban in person on Tue Sep 12, 2-3pm or virtually on Fri Sep 15, 12-1pm. See registration info below. 
National Postdoc Appreciation Week
We're thrilled to celebrate Postdoc Appreciation Week this year! From Sep 18-22, the Postdoctoral Affairs Office will be hosting a week of events in appreciation of our postdoc community.  Register for events and learn more here >
Research Participant Payment
The Office of Research Accounting must be able to determine when any given research participant receives more than $600 in compensation from Lehigh within a single calendar year. To facilitate the tracking of total payments to research participants, investigators are required to follow the important guidelines listed here >
---
Upcoming Dates & Deadlines
WED, SEP 6 | NOON - 1:00 PM
Join us for a virtual discussion on all seed funding programs available through OVPR, along with important new updates to funding amounts and criteria.  New faculty are especially encouraged to attend.  Register above.
TUE, SEP 12 | 2:00 PM – 3:00 PM (HST 3rd floor; RSVP here)
FRI, SEP 15 | NOON – 1:00 PM (Zoom registration)
Register for one of the Q&A sessions with Provost Nathan Urban on the call for Interdisciplinary Research Center white papers.
FRI, SEP 15 | 2:15 PM – 3:15 PM
Research Integrity will host a one-hour Zoom session providing an overview of IRB policies and the review process. Designed for students new to conducting human subjects research, as well as for faculty and staff interested in learning more about the Lehigh IRB review process.
MON SEP 18 - FRI SEP 22
Lehigh postdocs are invited to join us for a week of special events and workshops. 
WED SEP 27 | 4:30 - 6:15 PM STEPS 101
Lecture & reception

Casey Fiesler, scholar of tech ethics, internet law and policy, and online communities, will deliver the Fall 2023 I-DISC Data and Computing Equity & Justice (DCEJ) lecture. Registration required.
FRI, SEP 29 | 2:15 PM – 3:15 PM
Join us for a one-hour Zoom session covering the use of IRBNet for submitting research protocols for IRB review. This session is ideal for faculty, staff and students who are new to using IRBNet, as well as experienced submitters with specific questions concerning the online submission process. 
---
LIRA Updates
If you are new to LIRA or want a refresher, you can now view a recorded Crash Course session here. Additionally, you can view & download the slides from the presentation.
Fellowship Proposals: All applications will need a LIRA record entered by either the fellow's mentor or department support. The full guide can be found here.
Open office hours for LIRA questions and support will be held on the following dates: 
Date

Time

Zoom Link

September 5, 2023

September 7, 2023

September 12, 2023

September 14, 2023

11am - 12pm

2pm - 3pm

11am - 12pm

2pm - 3pm
At any time, if you have any questions about LIRA please email: inlira@lehigh.edu
---
Featured Resources
This guide explains key concepts for faculty and staff who are involved in applying for, conducting, and stewarding research programs. The content is specifically related to sponsored programs, as well as topics that are important regardless of the source of support.
A list of resources and services available from the Office of Research. 
---
Spotlight Q&A
Get to know members of the Lehigh Research Community. 
Chad Kusko
I-CPIE Director of Operations
How would you describe your job to a layperson?  As I-CPIE Director of Operations, my goal is to support I-CPIE faculty and faculty teams to propose and manage interdisciplinary research programs and projects.
How do you relax? I'll watch any Philadelphia sporting event – Eagles, Phillies, Sixers or Flyers – and get caught up in the game and atmosphere.
Do you have a pet?  Tell us about them.  My family has two pitbull rescues named Cameron and Clyde.  They love their walks through the neighborhood and running in the backyard, but mostly, they love just laying next to anyone in our family that will feed them at that given moment!
---
Research News
| | |
| --- | --- |
| | Professor Arindam Banerjee will lead the team that will provide graduate students with the skills needed to pioneer solutions toward an equitable, decarbonized energy future. |
| | Lehigh students and educators pioneer virtual reality games, offering unprecedented access to local history and environmental systems. |
| | Experiments designed by researchers James Gilchrist, Kelly Schultz and Xuanhong Cheng head to the International Space Station to escape the limits of gravity. |
For previous newsletter issues, click here >
---
Contact Us
Questions, feedback and content suggestions? We welcome your feedback. Email us at vpresearch@lehigh.edu.
Follow us on Twitter @LehighResearch
---
Office of the Vice Provost for Research
Alumni Memorial Building, 27 Memorial Drive West
Bethlehem, PA 18015