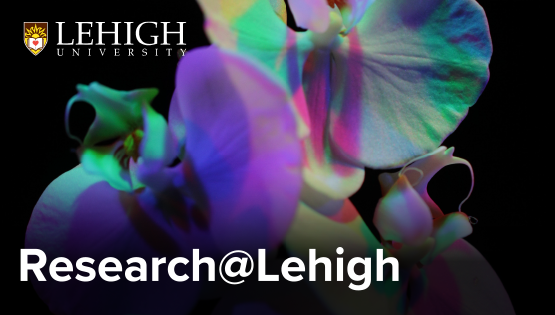 May 2, 2023
Welcome to Research@Lehigh, a monthly newsletter from the Office of the Vice Provost for Research featuring research resources and services; important announcements and deadlines; upcoming events, workshops and training; and recent research news.
---
Announcements  
We are excited to announce the launch of our new Postdoctoral Affairs website! This site is designed specifically for Postdoctoral researchers, their mentors, as well as the research staff who support them.  It aims to provide a central hub for information on postdoctoral fellowships, career development, events, and other resources.   We encourage all Postdocs to visit the website regularly, as it will be updated frequently with new information and resources. 
---
Upcoming Dates & Deadlines
THU, MAY 11 | 12:30 - 2:00 PM (RSVP BY MAY 2)
In this special seminar with NASEM Study Director Layne Scherer, learn how the backdrop of systemic racism in the US has harmed and continues to harm people from minoritized groups, which is critical for understanding the unequal representation in STEMM (Science Technology Engineering Mathematics & Medicine).  Open to all faculty, postdoctoral scholars, staff and students. RSVP required by May 2, 2023.
SUN, MAY 7 | 11:59 PM (Internal Limited Submissions Date)
Applications are invited for the Pew Scholars Program, targeted toward early-career scholars working in the biomedical sciences, medicine or a related field, including engineering or the physical sciences (full eligibility requirements here). Interested applicants should submit a pre-proposal in the form of a 1-2 page research project summary and CV to Matthew Mattern (mqm5@lehigh.edu) by EOD May 7, 2023. 
MON, MAY 8 | 11:00 AM - 12:00 PM
The Graduate Writers' Studio will host a virtual information session on their NSF GRFP Writing Group.  Rising seniors and those who will be first- or second-year graduate students in the 2023-2024 academic year are welcome to join. GRFP seeks to broaden participation in science and engineering of underrepresented groups, including women, minorities, persons with disabilities, and veterans. The five-year fellowship provides three years of financial support inclusive of an annual stipend of $37,000.  Register above.
FRI, AUG 18 | 5:00 PM (Internal Limited Submissions Date)
Applications are invited for the NEH Summer Stipend Program for Summer 2024, which awards $6,000 to stimulate new research in the humanities and its publication by supporting the work of individual scholars doing research or writing. All faculty, especially junior faculty, are encouraged to apply. Summer Stipends are an excellent entry point for the NEH and its many awards programs. For more information, visit the link above.
ONGOING
Planning on submitting an NIH proposal? Members read each others' drafts and offer feedback in this intensive writing group. This opportunity is open to current faculty and postdocs. New members are welcome any time.
ONGOING
This writing group is for early career faculty who are preparing their NSF Career proposals. Get help with early stage planning; deadlines to keep the work on target; and feedback on drafts. You do not need to have a draft or absolutely plan to apply this year to participate. New members are welcome any time.
---
Featured Resources
LIRA is two months old!  As system usage increases, ORSP has created additional resources and information for our users, including guidance for specific proposal types. Please refer to our updated LIRA FAQ page for helpful tips. Need help with developing a proposal or using LIRA? You can find support by following the guidance on the LIRA website here.
Looking for information on how to best comply with federal export control regulations as a faculty member? Research Integrity provides the following guidance on issues surrounding export control that are particularly important for faculty members to know. This resource is updated regularly with new information. 
Pivot-RP is one of the most widely used grant-searching tools in higher education. Search for available grants, receive funding alerts and newsletters for research teams. Pivot-RP offers researcher profiles to help you connect with users around the country who share your research interests. A free account is available for all Lehigh faculty, postdocs, staff & students. 
---
Spotlight Q&A
Get to know members of the Lehigh Research team. 
Rick Smith
Director of Technology Transfer
How would you describe your job to a layperson?
University faculty researchers invent new innovative technologies in their labs. I help them commercialize these inventions by working with companies around the world who are developing products similar to the university invention. Sometimes we start a company to commercialize the invention too.
What are your hobbies?  I have many hobbies that I enjoy. Fitness, I play in a men's baseball league, listen to music, I play guitar, I'm an amateur winemaker, and my favorite, I like to travel.
What is something that people may not know about you?  I was a volunteer fireman, EMT, and arson investigator in Connecticut. My great grandfather was a professional boxer in Pennsylvania
---
Research News
| | |
| --- | --- |
| | In his latest book, Bruce Whitehouse, associate professor of anthropology at Lehigh, examines why polygamy is thriving in Bamako, Mali. |
| | Rea studies ways to embed fairness in operational systems for service industries, including health care and food distribution. |
| | Kelly Schultz, Angela Brown, Mark Snyder and Steven McIntosh are collaborating on a project considered key to future sustainability. |
| | In her 'Lab Lab' at the heart of campus, Arrington studies colleagues as they pursue their cutting-edge science—and aims to help them do that science better. |
For previous newsletter issues, click here >
---
Contact Us
Questions, feedback and content suggestions? We welcome your feedback. Email us at vpresearch@lehigh.edu.
Follow us on Twitter @LehighResearch
---
Office of the Vice Provost for Research
Alumni Memorial Building, 27 Memorial Drive West
Bethlehem, PA 18015